Coconut Lagoon's chefs will be offering Ottawa customers a unique and appetizing meal option that continues their tradition of fresh, delicious food – that will also be seasonal. At Thali, the restaurant, the entire meal will be served on a round plate, or Thali – the Indian word for this platter. It will have small bowls – or "khatoris" – with vegetables, curries, and milk products, as well as rice, pulses, bread and a dessert. Other side dishes may include chutneys and salads.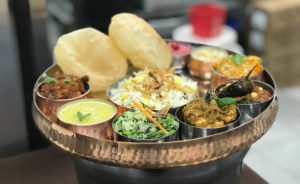 The Thali is complete in terms of balanced nutrition. Its components correspond to the modern day food pyramid, yet its beginnings were part of ancient Hindu cultural traditions. It is believed to have its basis in Ayurveda, the science behind yoga.
The idea behind a Thali is to offer all the 6 different flavours of sweet, salty, bitter, sour, astringent and spicy on one single plate.
Thali will have award-winning chef, Joe Thottungal, and his long-time chef de cuisine, Rajesh Gopi, at the helm. They plan to have 6-7 dishes for each Thali. Vegan and gluten-free options will also be available.
The dishes will be all-Indian– "no boundaries" – and there will be a different selection daily in terms of soups, breads, dal, meat, and vegetables, along with pickles, and dessert of the day. Drink choices will include, among others, carob or cumin water, and local craft beers and Canadian wine.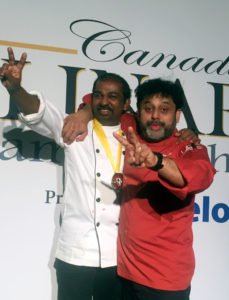 Deep consideration has been given to environmental concerns. For instance, the bowls will be copper. This metal holds the heat better, and ayurvedic practitioners believe it eliminates toxins. Straws will be paper, and there will be no food waste.
The restaurant will have 70 seats, with large communal table, ideal for laptops and co-working. Customers will be able to order a takeout platter for lunch – or dinner, as Thali will be open 10am – 8pm. Thali will also host special events from time to time.
Joe assures all future Thali customers that the cuisine will have the qualities that won him Bronze, Gold (locally) and Silver (nationally) medals 3 years in a row for Canada's Gold Medal Plates contest – "…unique dishes, where we concentrate on flavour and marrying the spices."
He looks forward to welcoming all to this new and exciting downtown food experience!
Thali is being designed by Project 1 Studio, who also designed Coconut Lagoon, to give a simple, welcoming atmosphere. The renovation will be done by KAT Design and Construction.